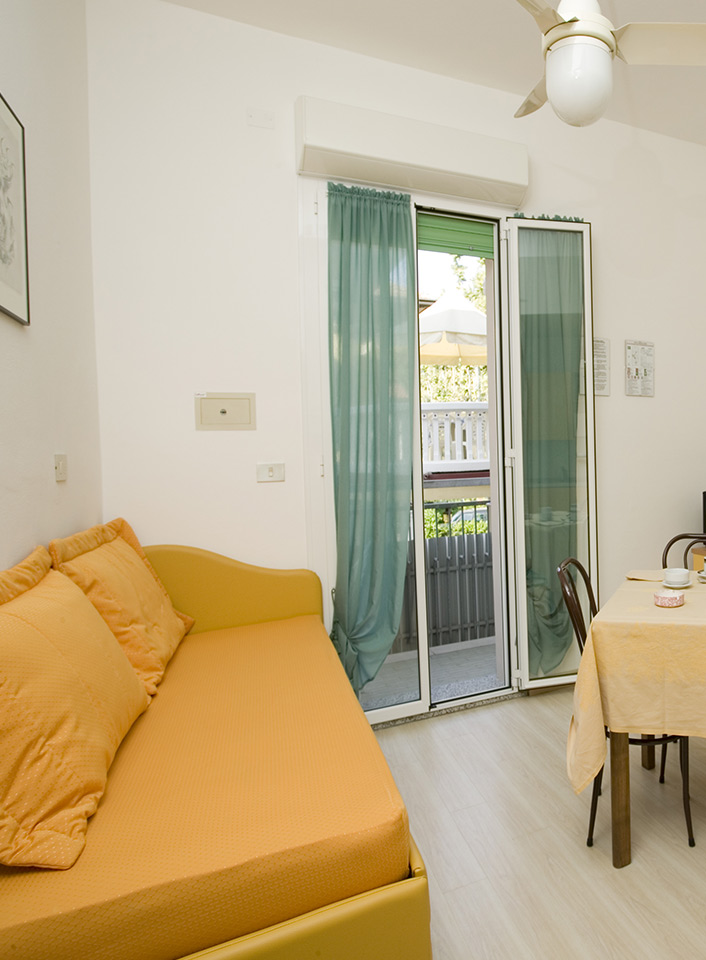 Our recently built flats have been built to offer you the maximum comfort during your holidays.
We have tried to think about all that you may need for a carefree holiday, offering the lady of the house freedom from cleaning and reordering the home. The general building has been built using avant-garde sound-proofing technologies with specific floors and sound-absorbing walls.

Wi-fi free residence and apartment
Servizi negli appartamenti
The residential units are provided with large balconies for a summery life in the open air, fans, safes, microwave oven, air conditions which can change to heaters according to need, and the electrical systems and fixtures are individual for every residential unit thus allowing you to manage them yourself.
You will also be supplied with basic tableware, pots and cutlery with the possibility of customising them according to your likes. Table cloths and dusters will be changed daily by us.
The cleaning maids will come every day to reorder your flat. Bed and bathroom linen will be changed on stipulated days.
Planimetry of the apartments
Contacts!!
You car will be parked safely in the internal car space where you will be able to come and go as you wish thanks to the automatic gates' key which you will be given. These gates will be always kept closed.
We would like to remind you that a receptionist will be always available for your every requirement during the set hours while, for the remaining hours, and especially during the night, we are always reachable by phone.
For young people and for those who would like to return late at night or go out early in the morning for a healthy walk on the beach, there is a nightly independent, combination lock entrance thus saving you from key worries.
Villa Guerrini
A Liberty Style villa built by the Guerrini family in the distant 1929, it is one of the first buildings to characterise Cervia's urban morphology of the early 20th century.

Central tourist area;


two types of apartments;


dedicated car park;


large balconies;


beach service;

si presta ad essere vissuta per brevi o lunghe vacanze !
Situated in a central, residential tourist zone, it can be used for both short and long holidays where you will find tranquillity and complete comfort. Villa Guerrini, which also includes an outhouse on its back, is now owned by the Battisti family and is found inside the "Residenza Andrea Doria" complex. Its interiors have been completely refurbished into a modern and comfortable style for a more practical use of its flats, without, however, affecting its completely Liberty Style's dignified and artistic external appearance, so much that it was certified by the Sovraintendenza alle Belle Arti (Superintendency to the Fine Arts).

Two types of residences are available. Type B is made up of a kitchen/living, a bedroom, bathroom and balcony and Type A is made up of a kitchen/living, two bedrooms, bathroom and balcony. Depending on the choice made, the residential units offer independent entrance, parking space, washing machine, a safe, fans or air conditions, bathroom with shower, hair dryer with a cot and high chair also available upon request. Included in the price, a beach umbrella and two deck chairs s are offered together with all this in our "Bagno Imperiale" structure during the entire period of your stay.

The prices of the residential units include the following services (not obligatory): Beach umbrella plus two deck chairs, general cleaning services (except kitchenette) plus bed and bathroom linen every seven days from the day of arrival and car space with self-managed entrance.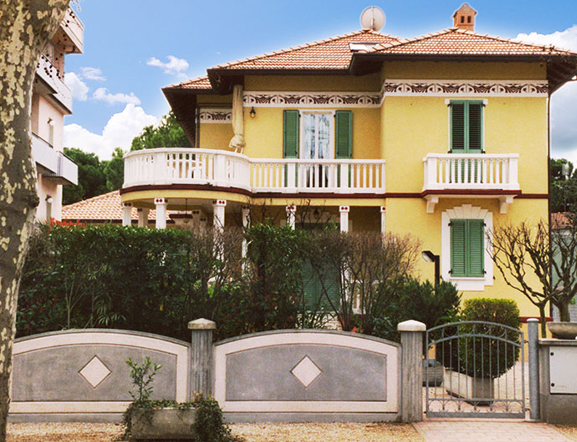 Villa Guerrini Cervia
Central tourist area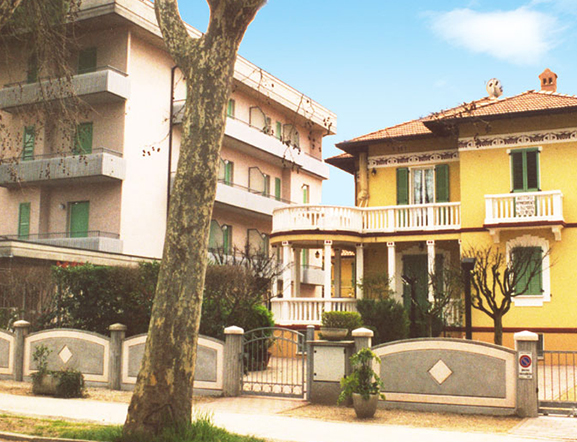 Villa Guerrini Cervia
large balconies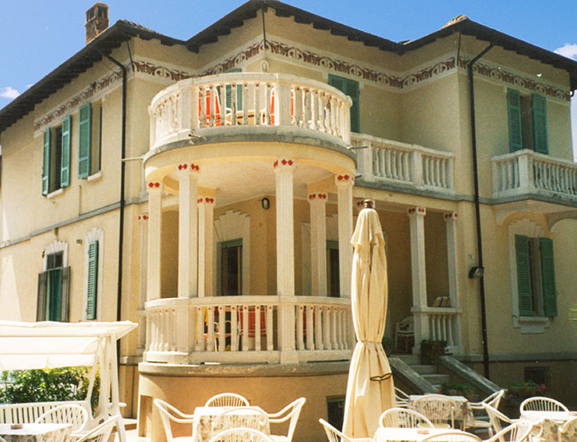 Villa Guerrini Cervia
bathroom with shower box